A DELICATE BALANCE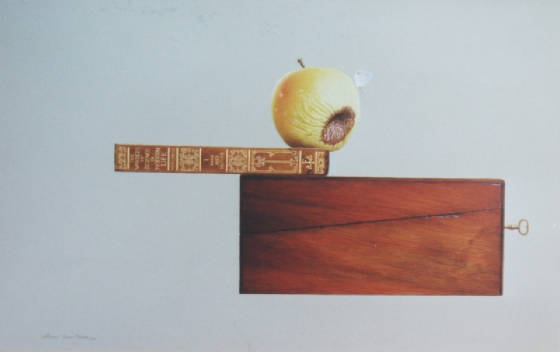 Acrylic on board 9" x 15" Private Collection
FLORIDA HAIRSTREAK

One of my favorite American butterflies! My introduction was in 1962 under the mentorship of Thomas G. Brady, an avid lifelong amateur Lepidopterist. Tom showed me specimens he had collected in the 1920's in Southern Florida. By 1960 the species was thought extinct due to hurricanes, development and the overharvesting of its larval foodplant, "coontie", a type of cycad. In recent decades, both foodplant and butterfly were "rediscovered" in the Everglades region. Widespread planting of coontie as an ornamental in developed areas has actually led to the resurrection of this once "extinct" species. It took me 44 years to acquire this specimen as an ex-pupa from a captive breeding program.
Florida Atala (Eumaeus atala)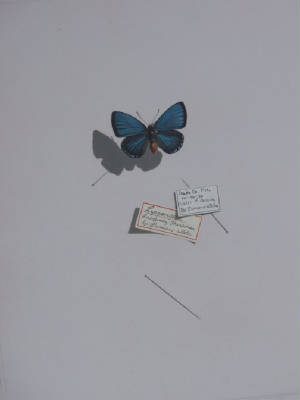 Acrylic 6 x 9 in Original is available
"LITTLE DAY FLIER"
This diminutive little moth is in the genus "Pyrausta", a large genus comprising more than 60 species in the U.S.A. I have only found this particular species twice. Both occurances were in my driveway and, unlike the vast majority of moths, found lazily cruising during the daytime (diurnal as opposed to nocturnal). Measuring a little more than one half inch in wingspan, this species, like many others in the "microlepidoptera" group are easily overlooked, even by collectors.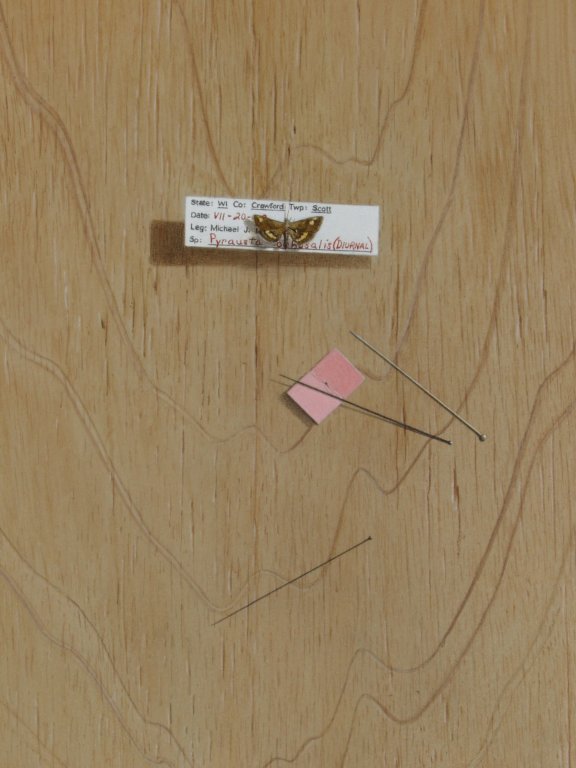 Original size 8" x 8" Acrylic on board. Available