BUTTONS and BUTTERFLIES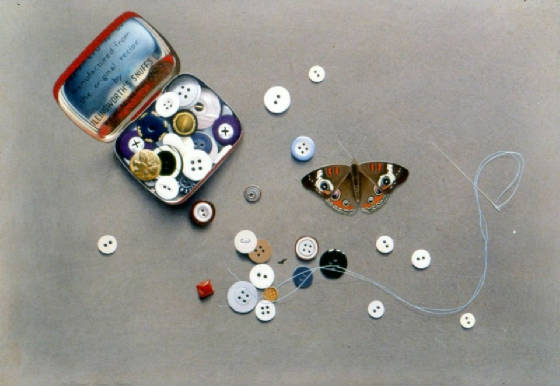 Acrylic on board 8" x 10" Sold
EDWARD POOLE, FISHING TACKLE MAKER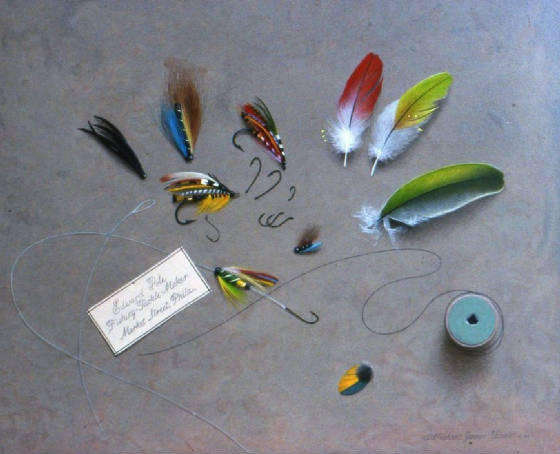 Acrylic on board. Collection of Woodson Art Museum, Wausau, WI
BLUE PANSY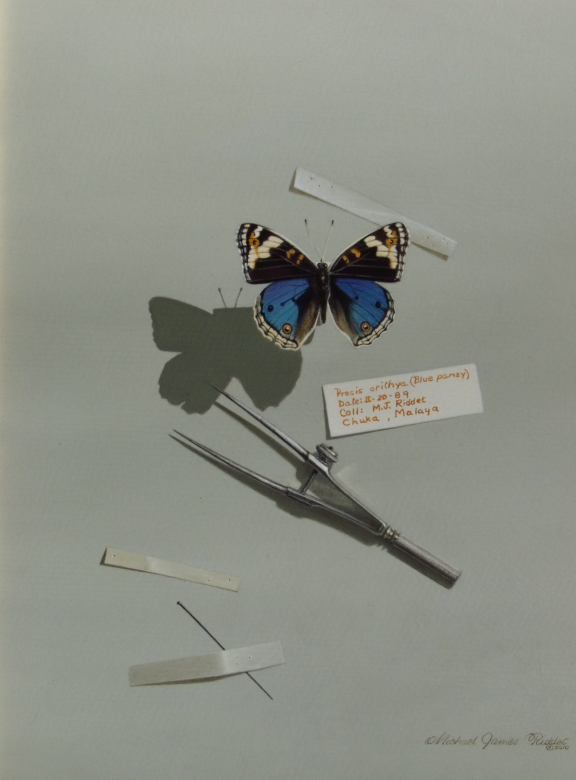 Acrylic on masonite 8" x 10" Original is Available
Title: MEN, WAR AND POLITICS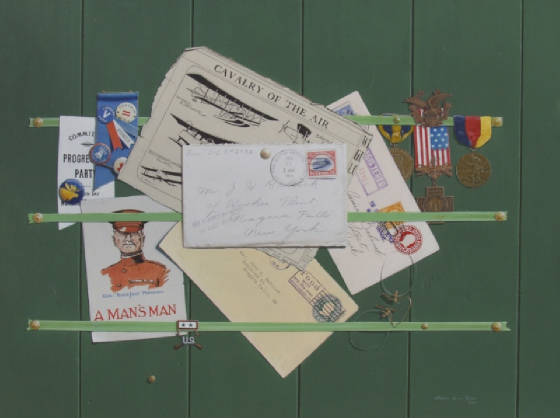 Acrylic on Board 15" x 20" Original is Available
Detail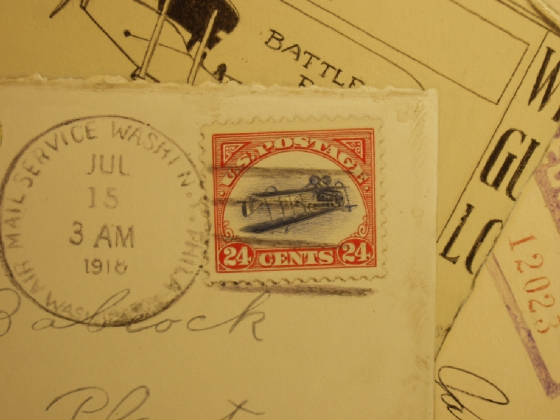 1918 Inverted Airmail
"LOVE"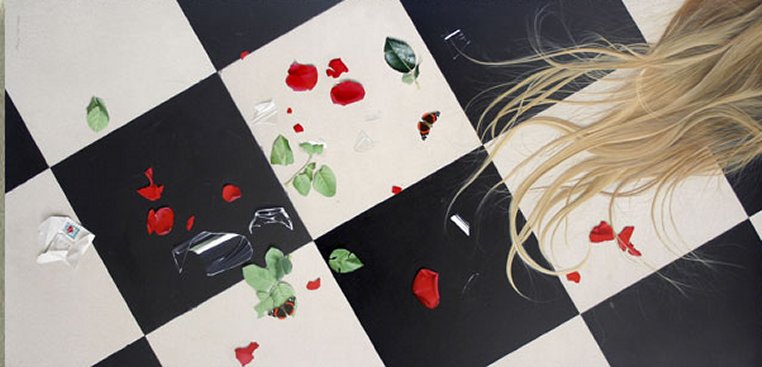 Acrylic on Masonite 24" x 48" Original is available.
Detail of Hair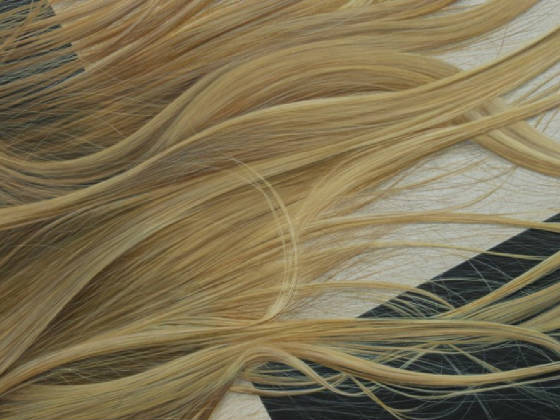 "LOVE" Detail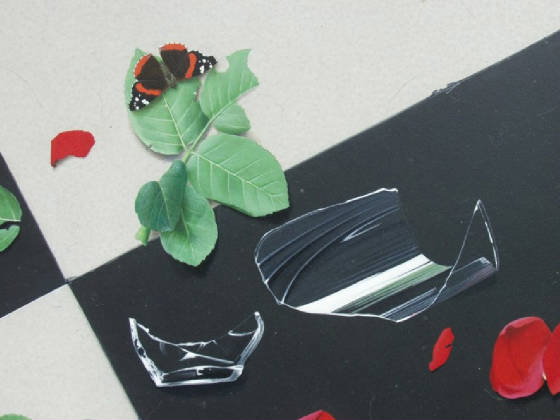 "Knowledge is Power" is an example of a painting that evolved slowly. From concept to finished work took four years, simply because I couldn't decide on an appropriate background. Originally, the viewer was going to be looking out, along with the young robin, through the cracked glass of an old farmhouse window but I couldn't find the appropriate house or window. A few other ideas I thought might work were eventually disposed of. A fortuitous acquisition, however, of an Arts & Crafts bookcase and its subsequent filling of older books, including those dealing with natural history subjects was the catalyst that led to what you see. This original is now available as a signed and numbered Limited Edition Print. Edition size: 95. Please see Limited Edition Print Page for details.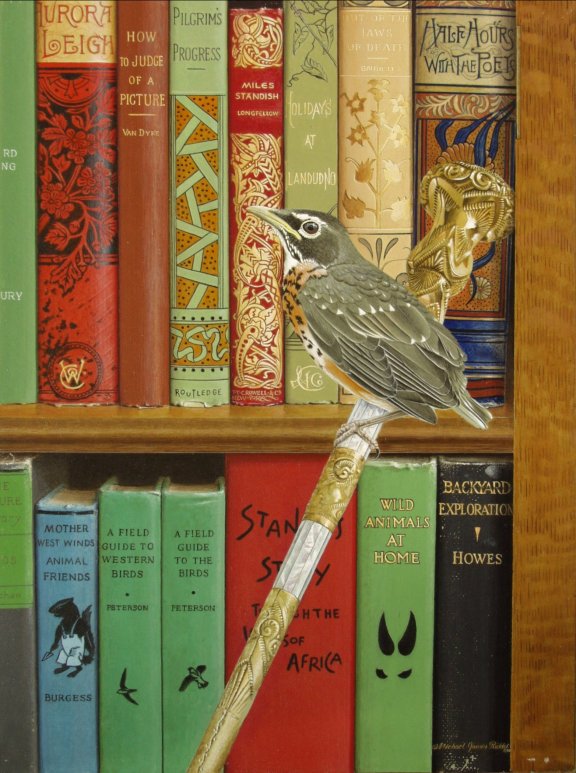 Acrylic on masonite 9" x 12" Private Collection. LIMITED EDITION PRINT now available. See Prints
The idea for "BLESSED ARE THE DOUGH MAKERS" came from an early 19th century breadboard that I had admired for many years in a friend's kitchen. It begged to be painted! Drawing upon the history of 19th and 20th century American trompe l'oeil painters, I thought it was time to try my hand at portraying U.S. currency along with a more modern twist and a little humor. I can now appreciate the time involved in portraying the work of master engravers in the U.S. Treasury Department.
BLESSED ARE THE DOUGH MAKERS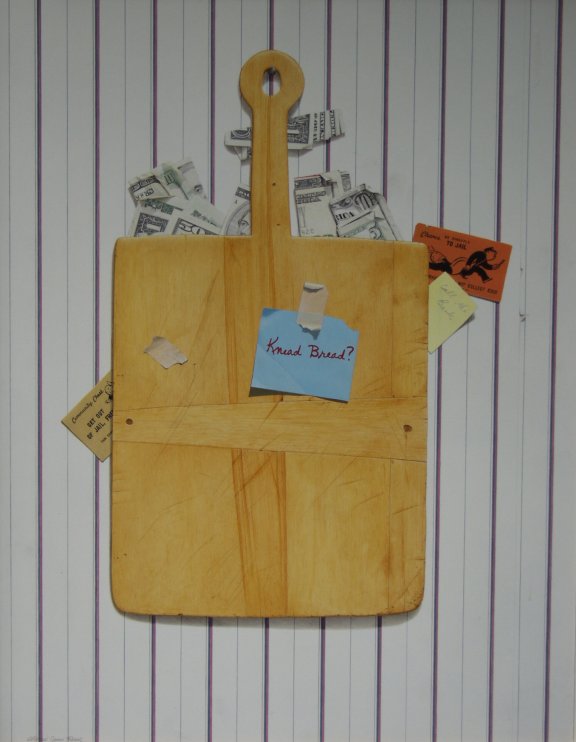 Acrylic on panel Size 18" x 24" Original Available
DETAIL OF BLESSED ARE THE DOUGH MAKERS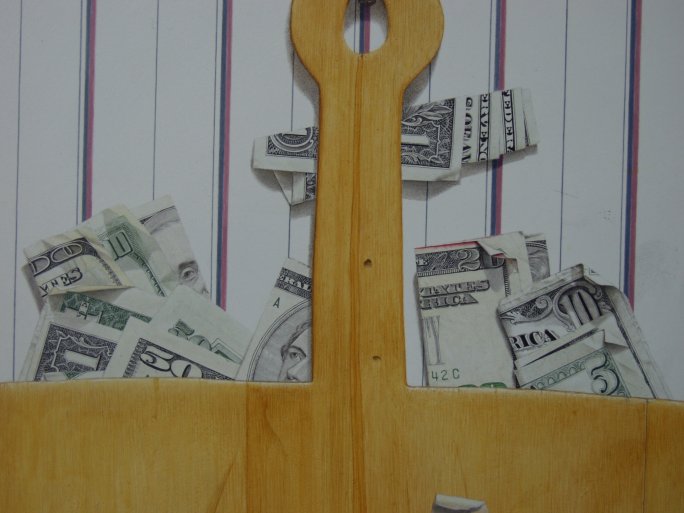 DETAIL 2