This painting was requested by Holland&Holland Gunmakers of London, England for display in their showroom at Safari Club International in Reno, Nevada. It pictures the engraved and gold inlaid backplate of the Nitro Express H&H Double Rifle. Although the engraving pictured is of H&H design, I took some artistic liberty and designed the gold inlay myself from studies I did in East Africa.
The historic map of Africa is from the 1860's and the tools depicted are metal gravers used in the demanding art of gun engraving. Holland&Holland is one of the most respected gunmakers in the world. Their attention to design, finish and artistic embellishment is unsurpassed.
The Engraver's Art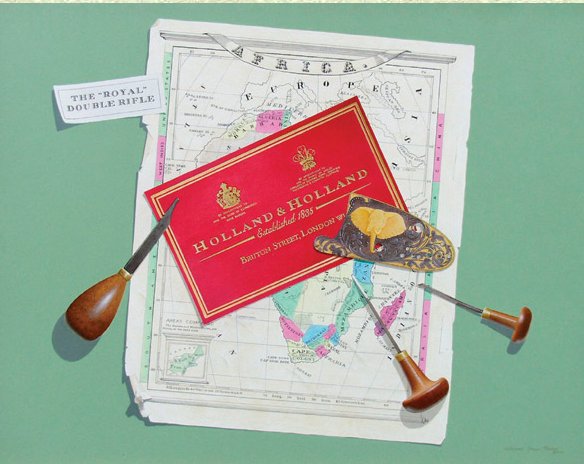 Acrylic on Board 14" x 18" Private Collection
The Engraver's Art (Detail)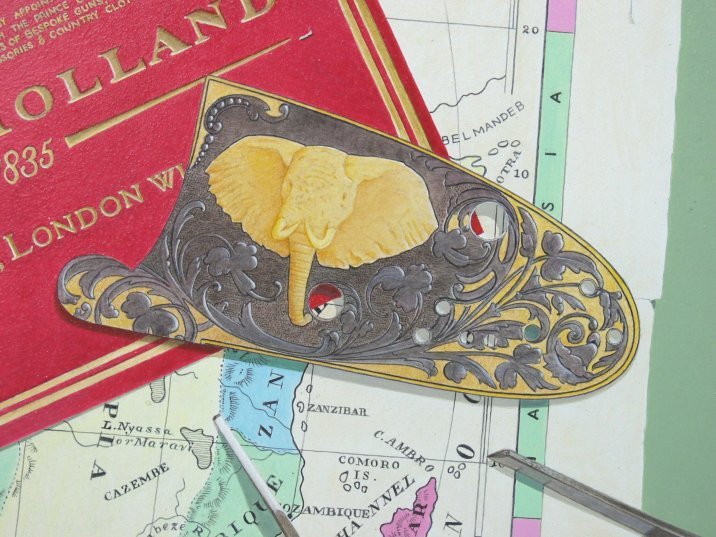 Acrylic on Board 14" x 18"
"Butterflies are Free" was painted during a recent administration's assault on individual's rights, the integrity of our library system and the validity of our political system. Note that part of the bookmark and shadows of the books and bookmark are actually painted on the frame in order to create the "trick the eye" effect.
Butterflies are Free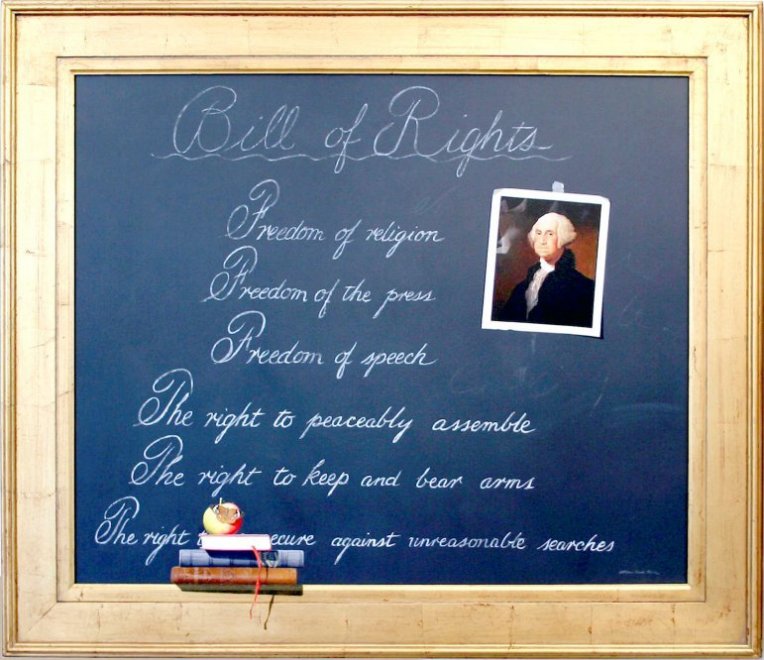 Acrylic on Board 30" x 36" This Painting is Available
Butterflies are Free (detail)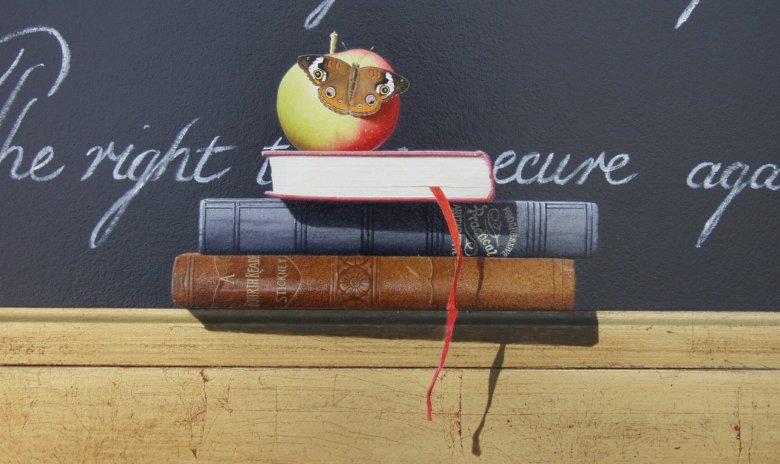 Buffalo Nickel 4" x 6"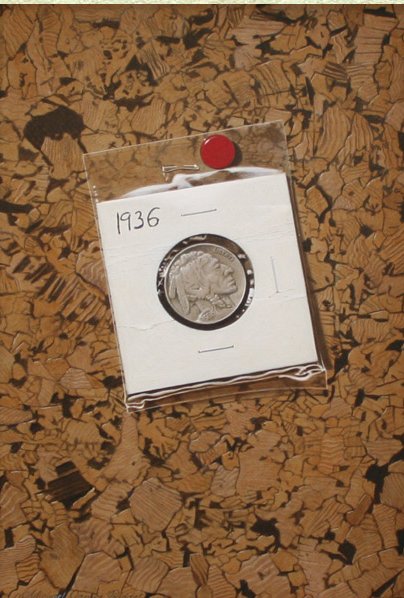 Acrylic on Board SOLD. A S/N limited edition of 95 giclee prints is now available.
Coins offer an interesting artistic challenge due to their size, detail and metallic content. Like postage stamps, the choice is endless.
"Fowl Play, Hen and Chicks" depicts Irish coinage. A chicken and her pullets, fish, bull and pig. These numismatic designs, created in 1928 by Percy Metcalf, remained on Irish coins until 1969. In my humble opinion these designs are some of the world's best.
"Two Birds and a Buffalo" is a simple depiction of three well used American coins. All coins are painted actual size.
Two Birds and a Buffalo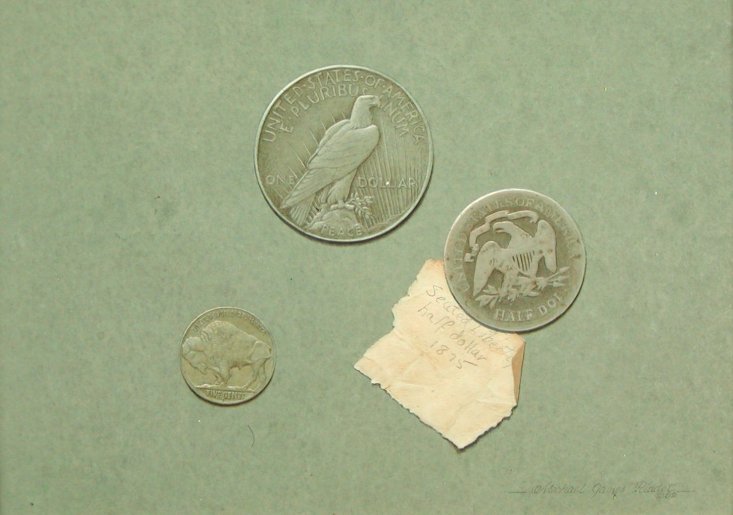 Acrylic on Panel SOLD
"AFTERNOON AT THE PUB"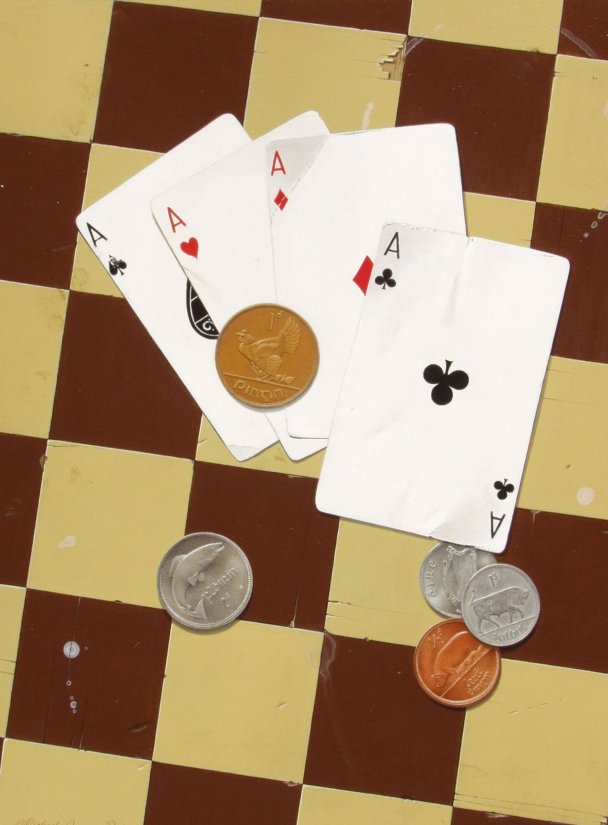 Acrylic on Board 8" x 10" This painting is Available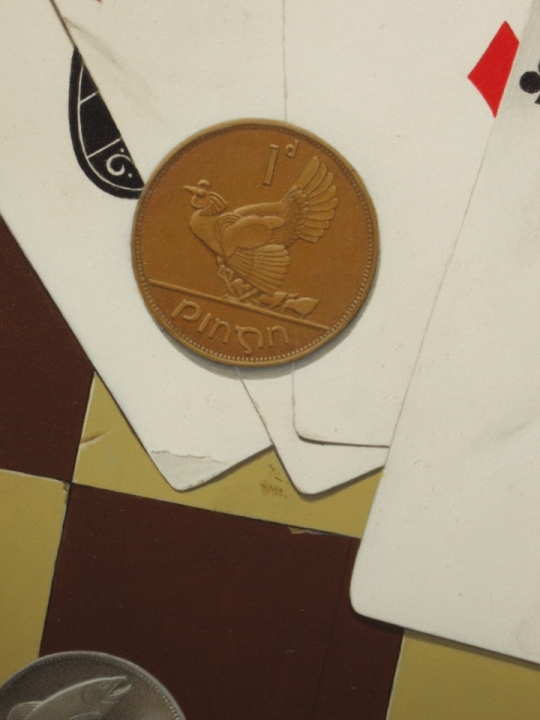 "Fowl Play" detail